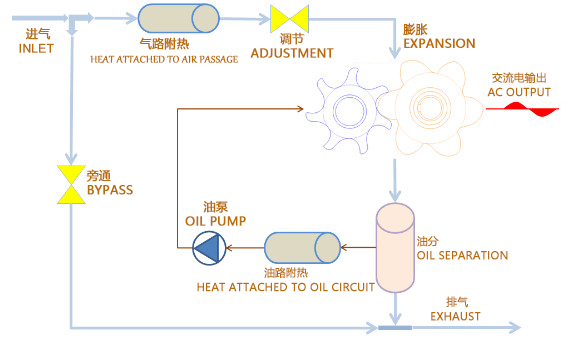 Oil injection screw pressure direct expansion generator unit is a kind of expansion power generation equipment which converts pressure energy into electric energy.
Oil injection screw: the expander is in the form of oil injection screw, and the lubricating oil plays the role of heat attachment, sealing, lubrication and noise reduction. This type of expander has the characteristics of high volumetric efficiency and adiabatic efficiency, and can obtain more net power generation under the same conditions.
Material: gray iron, ductile iron, cast steel and forged steel can be selected according to working conditions and requirements.
Inlet temperature range: - 40 ~ 200 ℃
Inlet pressure range: 0.4MPa ~ 5.0mpa (maximum expansion ratio of single machine is 20)
Flow range: 285 ~ 48000Nm3 / h (depending on working conditions)
Power range: 50 ~ 1250KW (depending on working conditions)
Expander efficiency: 60% ~ 85% (depending on working conditions)
Performance parameters of MSHE-12S~32S series expansion generator unit:
Medium: pipeline natural gas
Working condition: 40/16bar(g)
Medium flow rate: 3400~38400 Nm3/h
Power generation: 50~646kW