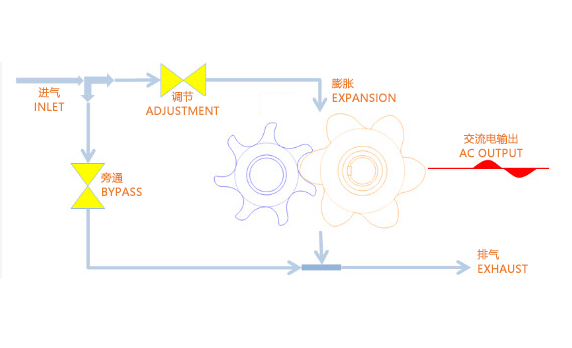 Schematic diagram of steam expansion generator unit
Oil-free screw steam expansion generator unit is a kind of expansion generation equipment which converts steam pressure energy into electric energy. The oil-free screw steam expansion generator unit uses saturated or superheated steam as the medium and is suitable for the exhaust steam with certain pressure.
It can be connected to the grid for power generation, including 400V, 6.3kV, 10.5kV synchronous/asynchronous power generation, or directly drive other equipment according to user's demand.
The unit is equipped with control cabinet and grid connection cabinet to realize one-stop solution for expansion, power generation and grid connection.
The maximum isentropic efficiency can reach 70%.
Inlet temperature range: 100 ~ 200 ℃
Inlet pressure range: 0.2MPa ~ 2.0MPa (maximum expansion ratio of single machine is 20)
Flow range: 0.4 ~ 45t / h
Power range: 30 ~ 1250KW (depending on working conditions)